Unlike Any Other Journal
The Custom Journal is a unique wellness company focused on using personalized journaling to mitigate stress and anxiety. Therapist recommended, we use a user-friendly web application that enables individuals to design the inside pages of their journal. Pick your favorite layouts and create your own prompts, or choose from a list of various Cognitive Behavioral Therapy (CBT) and organizational prompts, to make your journal truly one-of-a-kind.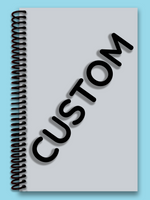 CUSTOM COVER ANYONE?!?
Want to design your own custom cover? Let's work together to get your journal looking the way you want! Select this custom cover, customize your inside pages, then go ahead and checkout. Once the purchase has been made, our design team will reach out to you via email to work with you on creating your perfect cover!
I want it!
Choose Your Cover
Your journal is your work of art. We've collaborated with artists from around North America to create custom cover designs so that you can choose the masterpiece that best inspires your creativity.
Or
Create your own custom cover using artwork and designs from your photo library. Now available!
Design Your Inside Pages
You're the architect of your own journal. Build your own layout and personalize the pages with content that matters most to you. 
Your Design Makes A Difference
Let's work together to spread awareness about mental health. For each journal sold, The Custom Journal will make a donation to the Anxiety and Depression Association of America. Because wellness isn't a destination; it's an ongoing, essential mission.
Finally, I can customize the inside of my journal!

Jessica A.
Simple, user-friendly application and beautiful end product.

Emma S.